North Carolina Wedding Venues
Wedding Venues for Sale in North Carolina
Love doesn't follow market cycles, which makes the wedding industry one of the most exciting and ever-growing businesses! And if you're considering getting into the wedding business, the Tar Heel state is one option you should be sure to consider. With its historic cities, gorgeous coastlines, and antebellum elegance, North Carolina wedding venues for sale run the wide range of styles that attract lovebirds from around the country. Thanks to the business-friendly advantages of the state's economy and the distinctive features of its geography, North Carolina is a prime choice for entering the wedding industry.
Why NC Wedding Venues for Sale Are a Great Investment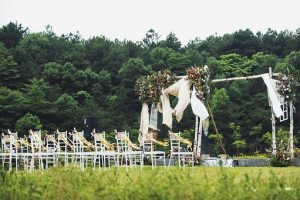 When it comes to wedding venues, there's a reason North Carolina is so well sought after. Thanks to the state's pleasant subtropical climate, weddings can be hosted indoors and outdoors year-round, providing exceptional versatility for wedding planners and venue owners alike. The state's business climate is equally favorable. With its pleasant weather, rich soils, and growing population, North Carolina boasts a booming and diverse economy that continues to attract businesses from around the country. From its historic agricultural sector — especially its unique wines and stunning wineries — to its strong textile industry and successful tourism market, North Carolina has a bounty of gorgeous properties for weddings and a large community of wedding vendors within easy reach. The state's flourishing economy also nets it a large customer base, with North Carolina being the ninth most populous state in the country, making the NC wedding business an especially strong business prospect. 
The Best Regions for North Carolina Wedding Venues
One of the best things about shopping for a North Carolina wedding venue for sale is the sheer variety available in the state. North Carolina has a unique geography that makes it especially well built for properties to host weddings. North Carolina's coastal region comprises nearly half of the state, and its gorgeous beaches make it a beloved vacation destination for visitors from across the region and beyond. The coastal region's sandy soil also lends itself to a booming and unique wine market dominated by Scuppernong — the inimitable variety of the region's native muscadine grape that produces a distinctive sweet wine. These features make North Carolina's hundreds of wineries strong business investments in their own right, as well as versatile venues for weddings and other special occasions. 
While North Carolina's coastal region is an excellent site for wedding venues, it's far from the state's only option. North Carolina's Piedmont region is defined by its verdant, bucolic hills, home to lush gardens, elegant and historic manors, and properties that blend rustic touches with modern luxuries. And on top boasting a picturesque Southern countryside, the state is also home to a sizable stretch of the Appalachian mountain range — and the stunning views that come with it. With diverse geographies and scenic natural backdrops to suit any taste, there is no shortage of ideal properties for your own North Carolina wedding venue for sale. 
Features to Look for in a NC Wedding Venue for Sale
When searching for the perfect wedding venue, there are a few standout features that help attract engaged couples — and venue owners would do well to keep these in mind when purchasing properties or making renovations. 
One great feature — and one that's in no short supply in North Carolina wedding venues for sale — is a great view. Whether facing a serene coastline, lush gardens, fields of grapevines, or majestic mountains, a gorgeous natural backdrop is a must-have for wedding ceremonies and photography sessions. And great views aren't limited to natural scenery, either. On both a practical level and an aesthetic level, a great hall is key to hosting a large audience while turning a regular reception into a magical event. The good news is that they come in all types to fit every style: from charming rustic barns to historic ballrooms and elegant tasting rooms. 
Another key benefit of North Carolina wedding venues is how they allow property owners to take advantage of outdoor features. Outdoor weddings also allow property owners and couples to take advantage of the other on-site amenities the venue has to offer. Features like vineyards, gardens, fountains, and ponds are a big draw for couples looking to get the most out of their venue, since they offer more diverse scenery for photos and points of interest for guests to explore. It's no wonder that North Carolina wineries have such an advantage as wedding venues!
Wherever you are in your search process, our experts are on-hand to help answer your questions and guide you through the process of finding the right North Carolina wedding venue for sale for your needs.