Summer is one of the best seasons in North Carolina, with long, warm days to enjoy the local bites and sights. But those who have visited the area know that you may need a little help to beat the heat. That's where North Carolina vineyards and wineries come in, offering peaceful patios and spacious decks with breathtaking views to enjoy a bottle of wine right where it was made!
Finding the Right Wine for North Carolina's Weather
During this season of al fresco dining, a good bottle of wine can bring a lazy summer afternoon to the next level. For those who usually crave full-bodied reds, it can be a challenge to find a satisfying wine to enjoy in North Carolina's hot weather. Fortunately, local vineyards and wineries in North Carolina produce some perfect varieties to buy for your next get-together – whether you're hoping for a red, white, or bubbly. 
Choosing the Right Red
It can be tricky to find a red wine that won't put you to sleep in North Carolina's humidity. Here are some red wines that are light enough to enjoy on even the hottest August afternoon. 
Pinot Noir – Pinot Noir grapes grown in North Carolina tend to be particularly juicy, which offers relief to the complexity of the wine. The light mouthfeel makes Pinot Noir a great way to start a meal.

Beaujolais – Traditionally from the center of France, North Carolina's own Serre Vineyards has brought this great style of red wine to the South! Local Beaujolais from North Carolina vineyards is juicy, fruity, and drinkable, and it pairs well with almost any food.
White Wines for the Summer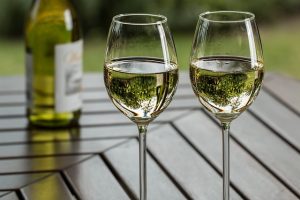 North Carolina vineyards and wineries have the state's weather in mind when they craft drinkable whites for the summer. These are some of the best white and pink wines to bring to your next summer gathering.
Riesling – While Rieslings have a reputation for being sweet, many North Carolina vineyards produce some Riesling grapes with higher acidity that cut some of the sweetness. Sweet Rieslings make a great dessert wine while drier Rieslings are a refreshing and perfect pair for a spicy dinner. 

Pinot Grigio – This white wine was born for North Carolina summer seafood feasts! While North Carolina vineyards' bottles of Pinot Grigio are a solid pick year-round, this wine truly shines in the hot months. Pair Pinot Grigio with anything vinegary for a world-class combination. 
North Carolina's Best Vineyards and Wineries for a Summer Visit
Whether you're entertaining visiting relatives, looking for a beautiful place to picnic with your family, or a local who wants to take full advantage of the area, North Carolina's vineyards and wineries offer the perfect weekend afternoon outing without much planning. 
 Western North Carolina Vineyards and Wineries:
Biltmore Estate Winery (Asheville)

Elkin Creek Vineyard (Elkin)

Baker Buffalo Creek Vineyard and Winery (Lawndale)
Central North Carolina Vineyards and Wineries:
Daveste Vineyards (Troutman)

Treehouse Vineyards (Monroe)

Junius Lindsay Vineyard (Lexington)
Eastern North Carolina Vineyards and Wineries:
Duplin Winery (Rose Hill)

Sanctuary Vineyards (Jarvisburg)

Cyprus Bends Vineyards (Wagram)
Summer never lasts long enough, so pick up a delicious bottle of wine from a local North Carolina vineyard or winery and embrace the season!