North Carolina Vineyards & Wineries
North Carolina's stunning vineyards are one of the wine world's best kept secrets! Though most associate American winemaking with California, North Carolina's vineyard history actually dates back centuries to the early days of the British colonies. In recent decades, North Carolina vineyards have begun to receive the recognition and accolades they well deserve. Today, North Carolina vineyards are located across the state and are organized into several highly-visited wine trails.  
The Long History of North Carolina Vineyards
North Carolina is home to the oldest-known cultivated grapevine in the U.S., the scuppernong grape. Wine grapes are so important to the state that the scuppernong is actually North Carolina's state fruit! A vine first established in about 1584 is actually still growing and producing amazing grapes in Roanoke Island. Initially, most of the vineyards in North Carolina produced small batches of wine grapes for use at home. In the 1830s, North Carolina entered the U.S. wine industry with Medoc Vineyard at the helm. Medoc Vineyard soon became one of the nation's leading wine producers.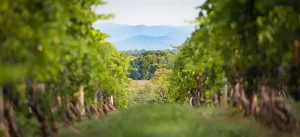 Prohibition slowed down North Carolina vineyards for a few decades, but in the mid-20th centuries, the state's vineyards bloomed once again. Today, North Carolina's vineyards are thriving, and it's easy to see the state's long and proud legacy of viticulture. With more than 500 vineyards in North Carolina, wine is a neary $2 billion industry in the state today! 
Viticulture's Rising Star: Why North Carolina Vineyards Flourish
North Carolina vineyards thrive due to the state's ideal geology for wine grapes. The great conditions for wine grapes have led to tremendous growth in the state's vineyards and wineries – with the number of NC vineyards nearly doubling in a decade. This is due to the state's consistent and mild weather and nutritious soil featuring a high concentration of minerals. These factors imprint themselves on North Carolina's wine grapes so that they can be tasted in the complex and flavorful wines. 
North Carolina's Best Winery Regions
Each of North Carolina's vineyard regions boasts a specific geology and climate resulting in a unique terroir. Wine grapes grow well in many of North Carolina's regions, with certain wine grapes doing best in particular areas. The Yadkin Valley is one of the state's best regions for vineyards because of its moderate elevation and close proximity to the Yadkin River for irrigation. The Appalachian High Country is a high-elevation area that offers the chance to grow some colder-weather varieties popular in more northern regions, though the area comes with the challenges typical of higher elevation sites. On North Carolina's warm and sandy coasts, the native muscadine grapes (including the state's first wine grape, the scuppernong) thrive. 
NC Wine Trails – The Best Place to Find North Carolina Vineyard
North Carolina vineyards are located across the state, and many are organized into wine trails. The wine trails include NC vineyards and wineries that are in close proximity to each other. This way, visitors can enjoy the views and wines at several North Carolina vineyards and wineries on a single visit. These are some of the most notable wine trails for NC vineyards:
Yadkin Valley Wine Trail:

This wine trail is one of the top on the East Coast, and it includes an incredible 40 NC vineyards and wineries! 

Swan Creek Wine Trail:

This wine trail overlaps with the Yadkin Valley WIne Trail, but is a smaller collection of more curated NC vineyards and wineries to enjoy in a single weekend!

East Bend Wine Trail:

Conveniently located just half an hour from Winston-Salem, this wine trail is a great way to escape from the city. 

Southern Gateway Wine Trail:

This wine trail marries great wine with great food. It's the perfect wine trail for visitors who want to see stunning vineyard views while enjoying authentic North Carolina barbecue.

Asheville Wine Trail:

This wine trail includes NC vineyards with fantastic views of the Blue Ridge Mountains! This is one of the best destinations for history, art, and culture.

Rose Hill Wine Trail:

Rose Hill is a collection of vineyards and wineries located near the coast. It's location makes it perfect for visitors to the beach who also want to enjoy the state's great wine.