North Carolina Vineyards for Sale
Vineyards for Sale in North Carolina
For North Carolina locals and America's wine connoisseurs, bottles from North Carolina vineyards have long been praised for their unusual complexity and flavor. In recent decades, though, North Carolina's incredible wine has become a widespread and mainstream success! With the state's wine increasingly recognized both in competitions and commercially, there has never been a better time to consider investing in a North Carolina vineyard for sale. Whether you're looking for an investment opportunity in a new area or to expand your existing wine operation, North Carolina vineyards for sale present a great chance to enter a burgeoning wine market predicted to continue to grow. 
Why to Invest in North Carolina Vineyards for Sale
North Carolina's number of vineyards has exploded recently to more than 500 because vineyards in the state have proven to be a sound investment. This is because the demand for North Carolina vineyards' wine grapes has soared with the domestic demand for the state's wines. North Carolina wines are becoming a household staple because of their affordability and approachability. In less than a decade, the number of wine grapes grown on North Carolina vineyards has nearly doubled with vineyard acreage exceeding 2,300 – and yet the state's existing vineyards still can't meet demand! 
Whether you're interested in an existing North Carolina vineyard for sale or want to establish your own operation from scratch, the market is ripe for more of the state's highly-regarded wine grapes. North Carolina's wine industry brings in almost $2 billion annually, including $320 million in tourist expenditures. With this market outlook, North Carolina vineyards for sale make for a low-risk investment in an exciting industry! 
The Best Regions to Find a North Carolina Vineyard for Sale
While there are North Carolina vineyards for sale across the state, certain regions have soil and climate conditions that are ideal for growing particular varieties of wine grape. These are North Carolina's major wine regions – each with a unique terroir reflected in its grapes.
Appalachian Mountains (NC):

In western North Carolina, some of the oldest mountains in the United States are home to dozens of vineyards. Some of the vineyards here are located in AVAs including the Appalachian High Country AVA, the Crest of the Blue Ridge AVA, and the Upper Hiwassee Highlands. 
The Piedmont (NC):

This wine region is located in central North Carolina along the foothills of the Piedmont mountains to the west. It is conveniently located near several major cities including Greensboro, Winston-Salem, and High-Point. Like the Appalachian Mountain region, the Piedmont region is home to three AVAs and several dozen vineyards.  
Coastal Plains (NC):

This region is located in the east of North Carolina along the Atlantic Coast. It is by far the largest of the three wine regions, taking up almost half of the state. While it doesn't have any registered AVAs, it boasts many vineyards and wineries and is one of the best places to grow native muscadine grapes. 
Wine Grapes to Grow on Your North Carolina Vineyard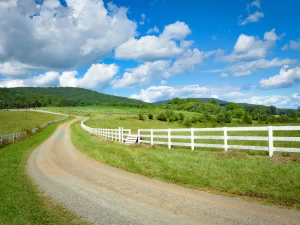 One of the best wine grapes to look for on North Carolina vineyards for sale are the state's native muscadine varieties. This includes the scuppernong grape, which was the first wine grape cultivated in the state in the 1500s. These grapes thrive in the coastal area's humid weather and sandy soil, and they are incredibly resistant to pests and disease. Because of these factors, these grapes are incredibly attractive to organic vineyard owners. Many European wine grape varietals also thrive in North Carolina, though these grapes do better in the Appalachian and Piedmont regions. 
Maximize Profits with NC Vineyards for Sale on Wine Trails
Since more than 2 million wine tourists visit the state each year, your business can thrive if you capitalize on tourism! If you're interested in a North Carolina vineyard for sale, one of the best business decisions you can make is selecting a property located near an established wine trail. North Carolina's many vineyards and wineries are scattered across the state, but dozens have been organized into wine trails that can be visited more easily by wine tourists. This is the perfect way to ensure that your new vineyards' tasting room is frequented by visitors to your area. These are a few of the state's top wine trails:
Western NC Wine Trails:
Yadkin Valley Wine Trail

Swan Creek Wine Trail

Asheville Wine Trail
Central NC Wine Trails:
East Bend WIne Trail

Southern Gateway Wine Trail
Coastal NC Wine Trails: